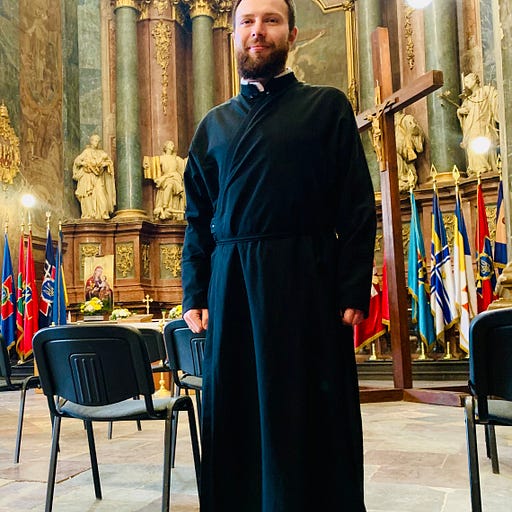 Mar 13
Ukraine Chronicles #3: Father Roman
"This is not war just of Ukraine. This is war of all civilization against evil."
Father Roman is a priest and military chaplain at the Garrison church in Lviv. A Greek Catholic church in full communion with Rome, they are the second largest Catholic particular church (behind the Latin church) and practice the Eastern (byzantine) liturgy.
Unlike western armies where chaplains are commissioned officers, chaplains in Ukraine remain civilians and continue to minister to the civilian population alongside their military charges. Father Roman conducts mass for service members at local bases in the area, but he also holds sevices at the Saints Peter and Paul Garrison Church in Lviv.
I spoke with Father Roman about the war, the history of his Church, and current relief efforts. He also shared some combat anecdotes given to him by his soldiers, and reassured me about Ukrainian morale. This was an enjoyable and illuminating interview, please give his account of events a listen, and share with your friends.
If you appreciate my work here, feel free to join the patreon below or donate to my cashapp ($eesmith4) or GiveSendGo campaign. Thank you, and I look forward to sharing more stories with you very soon!
————————————————————————
Please join my Telegram channel to keep up with the community:
You can support my work here:
Cashapp: $eesmith4