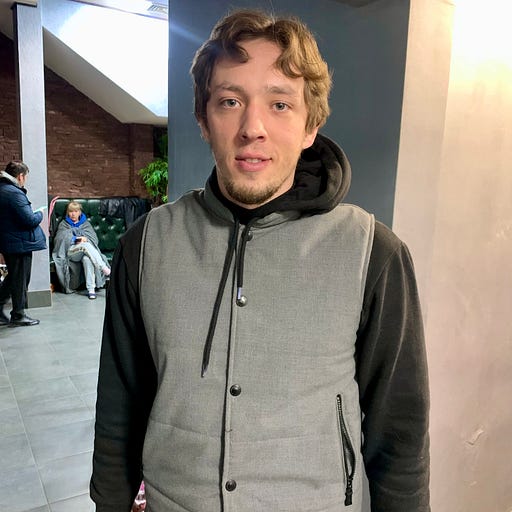 Mar 11
Ukraine Chronicles #2: Yevgeny's Story
"I have to go home to Kharkiv, my parents are there."
I met Yevgeny at a refugee shelter in central Lviv, a basement gym tucked down an alley that had been converted to hold a couple dozen or so people. He was working there, a chilly underground warren with mattresses strewn about the floor and wedged between exercise machines, helping those displaced by the war get settled in. He met me at the landing the first night with a big smile, and offered me mint tea and cookies in accented (but serviceable) English.
The second night I found out Yevgeny was a refugee himself. A 25 year old Muslim from Kharkiv, he had been bombed in the opening days of the war. He told me about his "kalash", about crouching in his home by the window waiting for the Russians to come. He told me about making Molotovs, and neighbors panicking when mortars landed on their street. I found out he was Muslim when he talked about hoping his home was ok, appending an "inshallah" while gesturing upward.
Today he returns to Kharkiv via 14 hour train ride, to stand with his parents (who refuse to evacuate) and his community against the Russian invaders. Last night I taught him how to use a CAT tourniquet and an Israeli bandage, and gave one of the former and two of the latter. I hope he doesn't need them.
Last night -after our impromptu first aid class- I interviewed him at the refugee shelter. Please listen to his words above, and remember his story.
If you appreciate my work here, feel free to join the patreon below or donate to my cashapp ($eesmith4) or GiveSendGo campaign. Thank you, and I look forward to sharing more stories with you very soon!
————————————————————————
Please join my Telegram channel to keep up with the community:
You can support my work here:
Cashapp: $eesmith4
1CommentShare